4.-6.12. 2009
DAVIS CUP, finále 2009
Španělsko
-
Česká republika
Česko hraje ve finále poprvé Davis Cupu poprvé od roku 1980!
Nejlepší antukáři světa vs Odhodlaní čeští srdcaři
Předfinálová trapárna:
Zda budou čeští vítězové Davis Cupu z roku 1980 osobně přihlížet letošnímu finále, není jasné. Kodeš, Šmíd, Složil a Lendl možná do Barcelony vůbec nepoletí. Tenisovým legendám totiž vadí obsah dopisu, který je do Španělska zval.
Tomáš Šmíd a Pavel Složil stěžují, že jim svaz nabízí lístky a vstup do VIP prostor, ale v dopise se nic nepíše o tom, zda budou mít rovněž placený hotel a letenky, jak bývá ve světě zvykem.
"Když nás pozvou někde po světě, platí nám všude letenku, hotel, jídlo. Já nepotřebuju první třídu, jako když jsem létal se Steffi (Grafovou) nebo Kurnikovovou. Poletím normální třídou. Ale abych si platil letenku? Proč?" zlobí se Složil.
Prezident svazu Kaderka reagoval stručně. "Celá ta záležitost včetně lístků, vipek a tak dále je dárek zhruba ve výši šedesáti až sedmdesáti tisíc a pokud tohle někdo považuje za málo důstojné, tak je mně velmi, velmi k smíchu a nemíním to komentovat."
Šmíd se Složilem budou na boj Štěpánka a Berdycha proti partě kolem Rafaela Nadala sledovat u televize, svou účast zatím vylučuje i Kodeš, který dostal stejný dopis.
"Při utkání se Švýcarskem v Praze mi nebyl umožněn přístup do prostor pro čestné hosty, i přesto, že jsem v československé reprezentaci odehrál nejvíce zápasů ze všech hráčů," uvedl Kodeš v prohlášení médiím.
"Proto ani nechápu důvod, proč jsem najednou pozván a to dopisem, o jehož obsahu si myslím, že je i smutnou vizitkou našeho svazového vedení," pokračoval.
O účasti bývalé světové jedničky Ivana Lendla jedná agentura Česká sportovní, která finále marketingově a logisticky z české strany zajišťuje.
"Klukům budu držet palce, přeju jim všechno nejlepší, ale tohle s nimi nemá nic společnýho. Abych někomu dělal vola nebo se z toho zbláznil, to nemám zapotřebí," dodal Šmíd.
Ivo Kaderka: Aféru považuji za zástupný problém
Prezident tenisového svazu Ivo Kaderka reagoval na tzv. "dopisovou aféru" v prohlášení zaslaném médiím: "Takzvanou 'dopisovou aféru', kterou někteří bývalí daviscupoví reprezentanti zdůvodňují svou plánovanou neúčast na finále v Barceloně, považuji pouze za zástupný problém," uvedl Kaderka
Šéf svazu prý nechce situaci dále eskalovat na úkor příprav na daviscupové finále. "Proto nebudu jejich jednotlivé výroky komentovat. Budu rád, když si všichni užijeme historické tenisové finále, a to včetně týmu vítězů, pro který jsou a budou vstupenky stále k dispozici bez jakýchkoli podmínek či závazků."
text zvacího dopisu
V Praze, dne 19. října 2009
Vážený pane,
jménem prezidenta ČTS Ing. Iva Kaderky, CSc., zasílám Vám tímto oficiální pozvání na finále Davisova poháru Španělsko - Česko, které proběhne ve dnech 4.-6. prosince 2009 v Barceloně.
Projevíte-li zájem shlédnout toto střetnutí, kontaktujte prosím sekretariát ČTS, Štvanice 38, 170 00 Praha 7, paní Martinu Motlovou, tel. 222 333 444,
cts@cztenis.cz
, která pro Vás bude mít připravenou vstupenku a VIP kartu pro Vaše pohodlí. Dovoluji si Vás požádat o brzkou odpověď zda se zúčastníte utkání. Prosím o pochopení, vstupenka a VIP karta mohou být blokovány nejdéle do 13.11.2009.
S pozdravem
Mgr. Kateřina Dostálová
generální sekretář ČTS
__________________________________________________________________________
Tak tyhle hvězdy a pracháči radši nepoletěj (až na Lendla?) držet našim klukům palce přímo do Španělska, protože jim svaz nebude cálovat všechno od A do Z a k tomu jim neposlal pozvánku napsanou zlatym písmem...
Uražená ješitnost zase jednou dostala svá jména...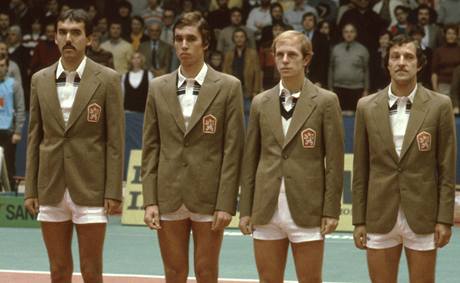 Foto ČTK